Dr. Pen Ultima M8 Professional Microneedling Dermapen, USB Rechargeable, 5pcs 42pin Cartridges Replacement Pack
Price:
U$ 159.99
Tax Free & VAT Included
Shipping:
Free express shipping at U$ 30.00
Brand:

FREYARA

Buy FREYARA dr. pen ultima m8 professional microneedling dermapen, usb rechargeable, 5pcs 42pin cartridges replacement pack online, worldwide free shipping and 30 days return guarantee.

DRPM805

SKU:

DRPM805

159.99

https://www.freyara.com/DRPM805_dr-pen-ultima-m8-professional-microneedling-pen-usb-recharge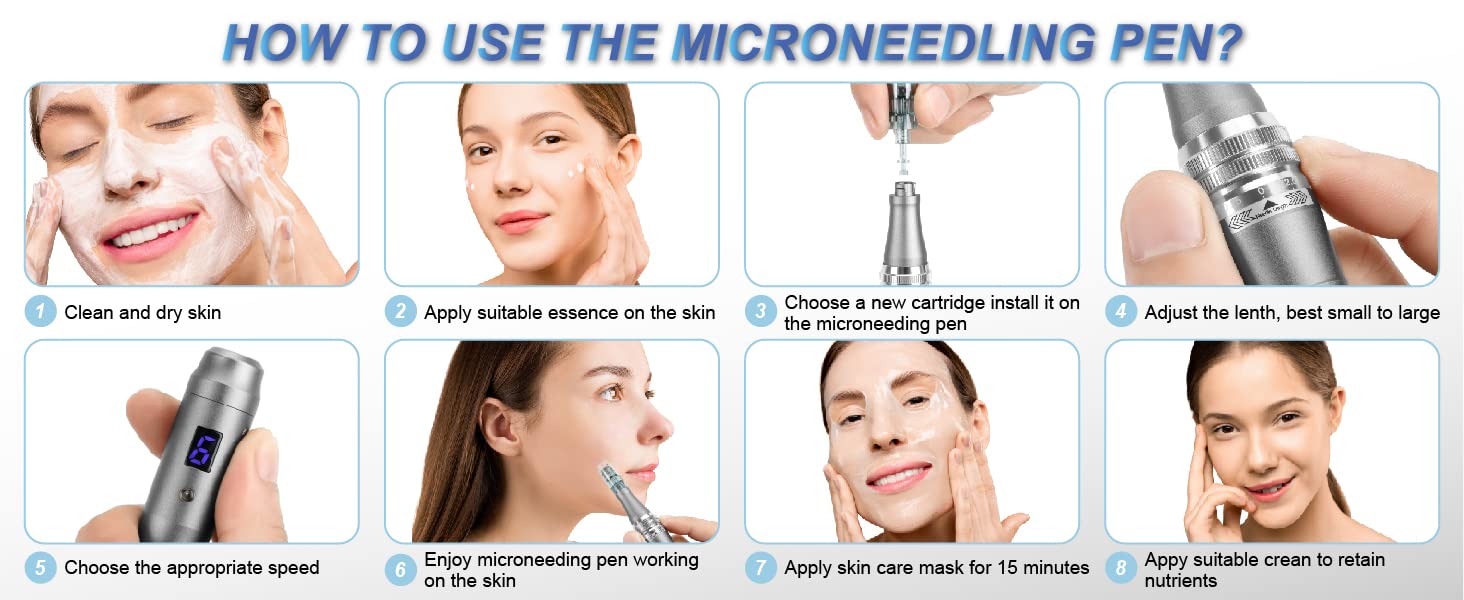 the electric dermapen M8 upgraded its motor power and 6 working speed settings from weak to strong. It works by automatically going in and out on skin, Compared with Microneedling Pen, M8 can act on the skin more evenly and densely at the same sliding distance
the microneedling pen not only can be used on the face but also on the body, targets various skin issues like wrinkles, fine lines, loss of firmness and elasticity, dullness, hyperpigmentation, uneven texture, blemishes, enlarged pores and more
No need cost thousands dollars in beauty salon. DR pen M8 lets you have professional results in the comfort of your home. Professional skin care can also be enjoyed at home, use best professional tools to promote beautiful, healthy skin
Easy to Use, Turn the dial, short press the power button, and select the needle length 0-0.25mm and working speed that suits your skin condition. (Please read the manual or other professional tutorials carefully before use)
Love it
I used to pay over $100 per nano treatment and I'm seeing the same results with this pen.
08/04/2023
Easy to use
I've been micro needling with a roller type device and read that it can cause tears and scaring so I decided to purchase Dr. Pen. It's very easy to use and the pain is minimal. I like that it's single use needles. Lessens the risk of infection and concerns of proper sanitation. I was surprised at how easily it glides on the skin. I even did some areas on my body for stretch marks and was impressed with the improvement in my skin.
02/04/2023
De. Pen
Es tan cuál las describe.
22/03/2023
This is real...
You can check the box and authenticate this. Fantastic product and you've got cosmetic and deep Microneedling.....im going to use velatox from acecosm as I've heard it's amazing for your glow with this and the recovery time is fast...I really suggest Jessica 10 on YouTube (I watch penn etc but what I've learned from Jessica is totally next level....she's a rock star and so generous with her time). I think this is going to be a good friend to my skin for a long time. The versatility and products that really give it that oompf! She's really educated me. This is a great product and the stuff you can use from Korea (kfda aorroved only...seriously....Jessica 10 wanna be diy guru....she's a wealth of info....tell her Ali sent you but Ill be there. Lives every day and discounts on gear products that she tries so you don't have to. I love her. I love this. My skin is so grateful.
14/03/2023
Verified authentic!
I was skeptical at first, but decided to buy this from Amazon, given Amazon's amazing return policy if I doing that this was not a genuine product. Once I scratched the seal, I scanned the QR code to verify its authenticity. Microneedling with skin boosters have made a huge difference to my skin and this pen helps my skin absorb the solution much better.
12/03/2023
How to use
So I bought the M8 charged it and couldn't turn it on. Directions need improvement. Got replacement same issue… so I thought . The trick is not to just press but PRESS AND HOLD till it turns on . I had looked for instructions how to turn on but found nothing even watched videos and saw people just press quick and it turned in but in my case I found press and hold works! The pen works great watch some videos in YouTube to help with depth and technique. Smooth replacement would recommend and appreciate the no hassle replacement . Wish I had realized this earlier.
05/03/2023
Returned to upgrade
This was my first Dr. Pen purchase. I was surprised that the product box didn't have like a seal or anything and the price significantly dropped after I purchased. After some research I saw there was actually a newer version: Ultima M8S so I returned this one to buy that newer. While I didn't get to use this one, I look forward to trying the newer version I reordered! Also, checking out the replacement cartridges, I wish there was an option to buy multi-needle per pack, such as a pack of 10 but with 5 36-pin and 5-16 pin...etc.
26/02/2023
Great CS
I love using this microneedle pen. I've seen such good results using it. I did run into a small issue with it but the customer support was helpful and responded so fast. Give them a shot, you won't be disappointed.
07/02/2023
Excellent penetration, easy to use
I have had several microneedle pens. This is by far best I have ever used. It's easy to use, good quality pen, as an Esthetician I have seen great results and it definitely penetrates the skin better. They should include a chart with suggestions on what levels to use for different areas of the face.
04/02/2023
Really easy to use.
I've never microneedled before this & this pen made it so easy to do it myself. I Love the simplicity.
22/01/2023
A
yes, you can use the 42pin on scalp
Frequently Bought Together