Dr. Pen Ultima M8 Professional Microneedling Dermapen, USB Rechargeable, 8x Cartridges Replacement Pack, 2pcs per 16pin, 24pin, 36pin, 42pin
Price:
U$ 179.99
Tax Free & VAT Included
Shipping:
Free express shipping at U$ 30.00
Brand:

FREYARA

Buy FREYARA dr. pen ultima m8 professional microneedling dermapen, usb rechargeable, 8x cartridges replacement pack, 2pcs per 16pin, 24pin, 36pin, 42pin online, worldwide free shipping and 30 days return guarantee.

DRPM801

SKU:

DRPM801

179.99

https://www.freyara.com/DRPM801_dr-pen-ultima-m8-professional-microneedling-pen-usb-recharge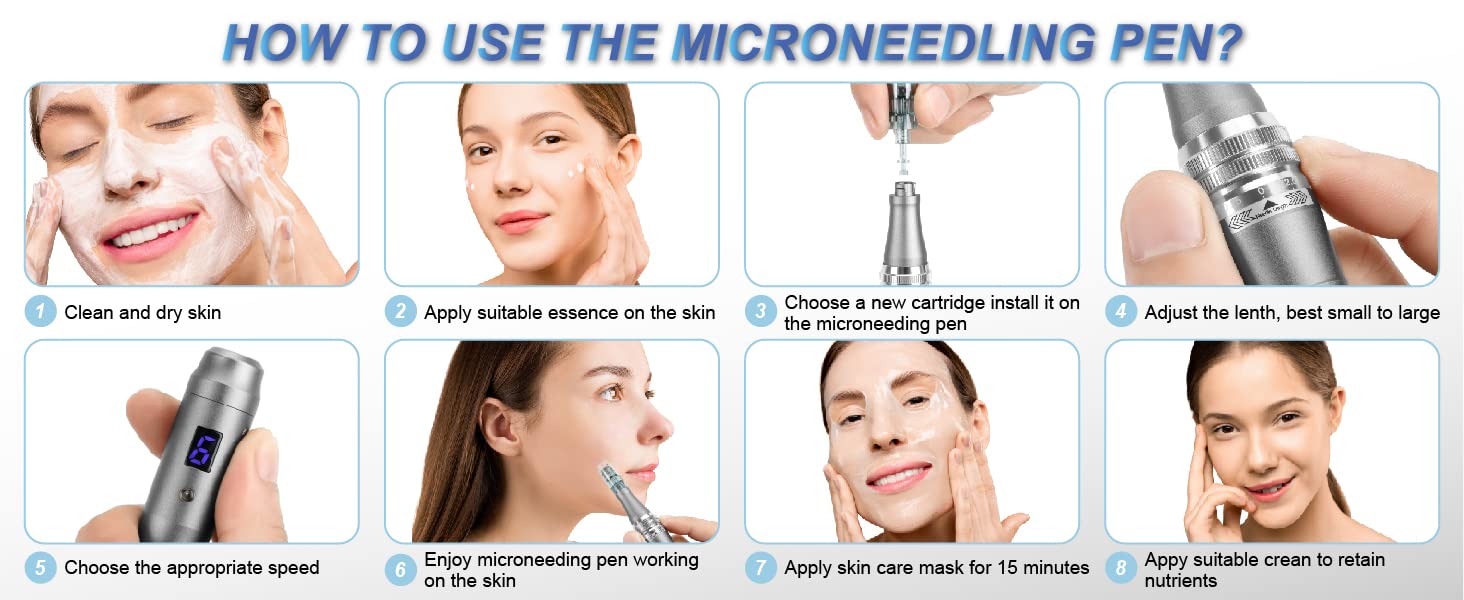 the electric dermapen M8 upgraded its motor power and 6 working speed settings from weak to strong. It works by automatically going in and out on skin, Compared with Microneedling Pen, M8 can act on the skin more evenly and densely at the same sliding distance
the microneedling pen not only can be used on the face but also on the body, targets various skin issues like wrinkles, fine lines, loss of firmness and elasticity, dullness, hyperpigmentation, uneven texture, blemishes, enlarged pores and more
No need cost thousands dollars in beauty salon. DR pen M8 lets you have professional results in the comfort of your home. Professional skin care can also be enjoyed at home, use best professional tools to promote beautiful, healthy skin
Easy to Use, Turn the dial, short press the power button, and select the needle length 0-0.25mm and working speed that suits your skin condition. (Please read the manual or other professional tutorials carefully before use)
Quality product
The quality of the product is good, and it's simple enough to use after reading the provided instructions and watching a few online tutorials.
17/05/2023
Can't live without it
I have had professional micro needling treatments in the past and was very happy with the results. Over the last few years my skin has been on a hormonal acne roller coaster which left my face scarred. I have been so self conscious about it. I really wanted to have more microneedling treatments completed but just could not afford to have it done professionally. For me this was the best option. I have medical background so this technique came easy to me. I have completed 2 treatments on my face 4 weeks apart and the results are already incredible. I have received so many compliments on my skin and have even stopped wearing makeup. I have not been able to go without makeup my entire adult life. I would 10/10 recommend. However, you will need to be familiar with the process and how to ensure you are using a sterile process and avoiding techniques that could lead to infection.

As for the product, assembly took minutes and the tool is super user friendly. Needles came in separate sterile packaging. Would recommend.
15/05/2023
Awesome
I have had another brand of micro pen, there is no comparison! Dr Pen is awesome!!!
12/05/2023
Excellent!
I received my device this weekend and am very pleased so far. It charged up quickly and was easy to use without reading up too much. I had a lot less redness as compared with the Dr. Pen micro needle stamp device which surprised me. I also found this a lot less painful even though I had it set to max depth. I had slight redness 24 hours afterward but by day 2 my skin was back to normal.
10/05/2023
I love this micro needling pen M8 Ultima
I was alittle scared and nervous about this but it was worth every dollar. I did use a higher needle and lower speed to start off because I had to get the feel of it. It was super easy to do the process and am very happy with the result. My skin feels amazing and hydrated and helped with filling some wrinkles… and can't wait to do it again with a lower pin needle and higher speed in a few weeks. I do suggest this product for any one because of the multiple benefits it does for your skin.
09/05/2023
Dr. Pen M8
-after using 5% lidocaine for 30 minutes over areas that are microneedled and hyaluronic acid for slip and plumping. A friend complimented my pen that it sounded strong.
Comes with 6 microneedle tips, a sleeve covering for the pen when not in use, charging cord, charging block & user manual.
Recommend to my friends & fam.
09/05/2023
Amazing !!
The best purchase ever to revitalise our face ! Excellent customer services as well
06/05/2023
Good product
Impressed! Easy to use. Tried once with the help of YouTube instruction videos.
05/05/2023
Works just as well as at an expensive salon. Thanks!
It was very easy to use. I watched YouTube videos to get a better idea of how to determine the settings.
23/04/2023
Convenient and easy to use.
I really like this micro-needling pen.
I prefer this over a derma roller. There is more control with this pen.
I have acne scars that I hope this pen will help reduce.
11/04/2023
There are no faqs for this product.
Frequently Bought Together