Dr. Pen Ultima M8 Professional Microneedling Dermapen, USB Rechargeable, 5pcs 24pin Cartridges Replacement Pack
Price:
U$ 159.99
Tax Free & VAT Included
Shipping:
Free express shipping at U$ 30.00
Brand:

FREYARA

Buy FREYARA dr. pen ultima m8 professional microneedling dermapen, usb rechargeable, 5pcs 24pin cartridges replacement pack online, worldwide free shipping and 30 days return guarantee.

DRPM803

SKU:

DRPM803

159.99

https://www.freyara.com/DRPM803_dr-pen-ultima-m8-professional-microneedling-pen-usb-recharge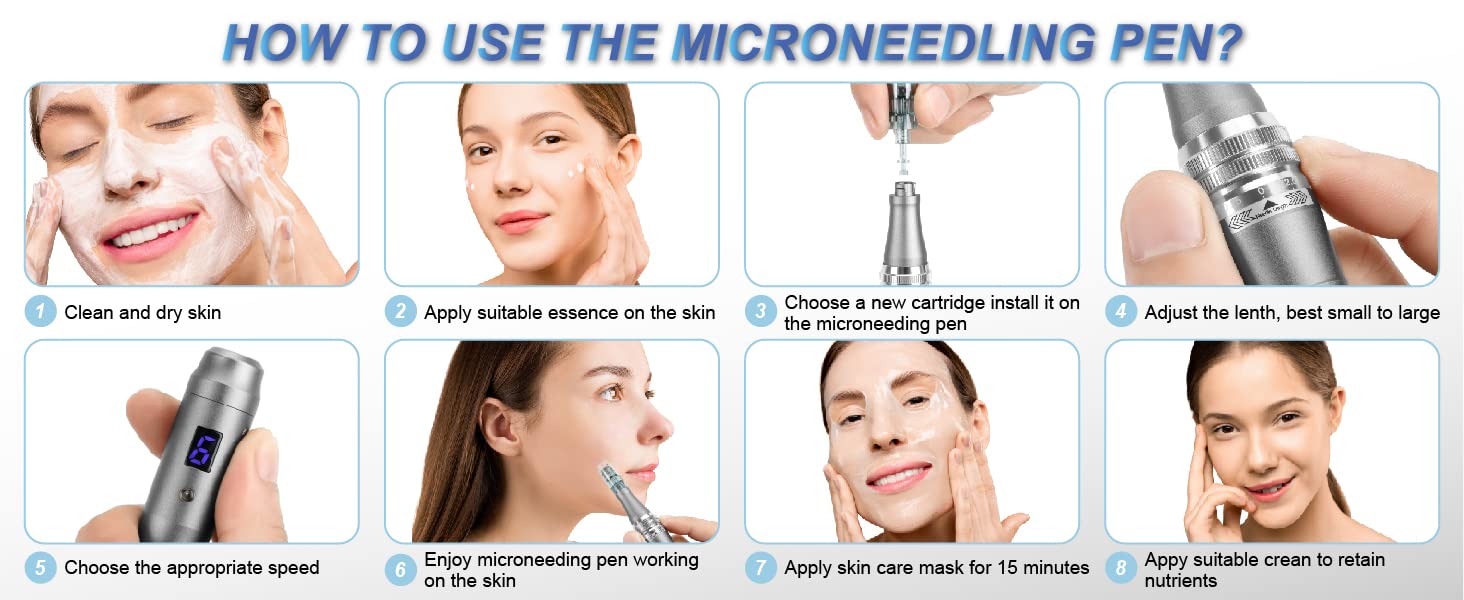 the electric dermapen M8 upgraded its motor power and 6 working speed settings from weak to strong. It works by automatically going in and out on skin, Compared with Microneedling Pen, M8 can act on the skin more evenly and densely at the same sliding distance
the microneedling pen not only can be used on the face but also on the body, targets various skin issues like wrinkles, fine lines, loss of firmness and elasticity, dullness, hyperpigmentation, uneven texture, blemishes, enlarged pores and more
No need cost thousands dollars in beauty salon. DR pen M8 lets you have professional results in the comfort of your home. Professional skin care can also be enjoyed at home, use best professional tools to promote beautiful, healthy skin
Easy to Use, Turn the dial, short press the power button, and select the needle length 0-0.25mm and working speed that suits your skin condition. (Please read the manual or other professional tutorials carefully before use)
Easy at home Micro-needling
Play Video
The Dr.Pen at home micro needling pen has 6 sterile tips so you can use it over time, since I used it on my face I allowed 4-6 weeks in between each time session and I use it with a topical numbing cream.
The actual pen works better than most high end micro needling pens, it isn't heavy, it has a digital screen so you can clearly see what speed it is on, and dial adjustable. Overall all this is a very easy product to use and compared to the price to get it done this is more convenient and you can do it from the comfort of you home
21/01/2023
Fine
I'm not sure a machine is needed. Seems easier for me to just pull out the manual microneedling tool and get it done rather than pull out a gadget, but that's just me. Otherwise this does what it says and isn't too complicated.
16/01/2023
my pores appear to be smaller with Dr Pen M8
I've been using it for a little more than a month, and I believe it has improved the look of my skin. My skin seems smoother overall, and my pores appear to be smaller. The changeable needle depth is a fantastic feature, and the build is of high quality. My skin looks wonderful after using it on my face for a few weeks. This is a high-quality microneedling stamp that I would unquestionably suggest to anyone seeking for one. I love the look and features of this Dr Pen M8
17/09/2022
Works great
My mother-in-law is an esthetician, and I gave it to her for her business. She was looking for a microneedling pen, and I was able to order this one, and thought that she would be the perfect person to test it out. As it turns out, her first few clients that she used the pen on, were my wife and sister-in-law. They always get treatments from their mom for these types of things, as she obviously will not charge them. My wife really liked the effect that she got from it in combination with a hyaluronic acid treatment, as she claims it vastly improved the hydration of her skin, as well as the glowiness of it. I fiddled around with it a bit too, and thought the quality was really excellent. It doesn't feel like a cheap product at all, and watching my mother-in-law use it, seemed fairly straightforward. From that perspective, I think if you're a newbie to microneedling, the learning curve for this particular device is not terribly steep. I notice the technique is to pay attention to one area at a time, while lifting the pen to another area. Never drag, always lift. I think to help gain the most benefit from skin care products, such as serums, microneedling is something that could really accelerate your results. I might even ask my mother-in-law to give it a try on my face, as I'm in my 40s now, and could use all the help I can get, to regain a youthful look. All in all, it's a really high quality microneedling pen, and one that I would certainly recommend.
02/09/2022
Works good
I really like this Dr Pen microneedle device. It comes almost fully charged and doesn't take much longer to become charged the rest of the way. It's actually pretty easy to use. I haven't had any issues with it, my only complaint is that the booklet doesn't state if you can use the needle heads more than once (self use) or dispose of afterwards.
22/03/2022
Cosmetologist review | Dr Pen M8 - Microneedling Pen Electric Auto Microneedle Derma Pen
I'm a professional cosmetologist with access to spa/salon/medical grade facial equipment including microneedling pens that can run upwards of several thousand dollars. After several years of testing these devices against home quality ones, I have essentially determined that there is very very very very little difference between a professional device and an "at-home" one. Battery life and expected life span could be the only real factors in most cases; as far as clients go, the difference in results is produced by the skill of the professional and not the cost of the device.

As a result, I often find myself reaching for a Dr Pen M8 in my office probably 8 times out of 10. The reason is because unless I am needling a scalp client or traveling to an outside service where I may use my pen for many hours straight, I find that the M8 pen can produce the same results that a professional pen can. However, the M8 pen actually weighs about 60 grams less than my professional device. This may not sound like a lot of weight but if I do 3-4 needling clients in a day, my wrist notices the difference in those 60 grams after awhile. Because of this, I actually have several M8 pens because sometimes I will forget to charge one overnight, or perhaps I have back to back clients and do not want to risk a battery dying at all.

Even though I do that, I've never had any issue with battery life or performance at all even when power begins to drop low. The pen continues to work and push through even when it's grazing the lower end of its battery life, and charge time is quick. I've never timed it specifically but I know that if I like go to lunch, run an errand, and come back, it's full and ready again. A few hours at most, and you're back in business. If you're busy and take back to back clients though, more than one device is ALWAYS a good idea.

The cartridges that come with this pen seemed fine and I noticed no issues with needle quality. However, I did use these on myself, on my body (hip/thigh) skin. The reason is because I do ONLY purchase needle cartridges to be used on clients from a reputable medical supplier, and that's because the needles absolutely must be reliably sterile and sharp. Using poor quality cartridges is a guaranteed way to ruin someone's skin, so while these devices are available to purchase without any kind of license, please be aware that I feel personally that it's the cartridges that are a much riskier purchase than the device. Use caution if you choose to do this yourself at home and try to find cartridges from a source that has a good reputation for sterility and quality.

Overall in terms of the device quality I'm very happy with the Dr. Pen M8 each and every time I use it. I have great results with it because it's a lightweight and easy to use needling pen that fits easily into the hand, holds a charge for a long period of time and maintains power and consistency the entire time it is in use. It is a bit smaller than my professional pen, but that doesn't appear to affect its performance or power at all. I'm happy with this microneedling pen and would absolutely recommend it to others.
21/03/2022
Exactly as described
Exactly as described
06/03/2022
One word: BADASS!!
This microneedling system is badass!!! I can tell this machine has a lot of power to it. I noticed that it hurts a little more to do a .75 needle than my older microneedle. Maybe the needle adjuster runs small? It felt like a lot more. But this needle is top notch and quality! I like that it comes with a few disposable needles and it comes in a nifty case. it also is rechargeable and holds a charge for a long time!
08/02/2022
I Ike this one better than its expensive sibling the M8, read why
Dr Pen has a bunch of different models of micro-needling pens- but truth be told, they all do the same thing. The features that the M8 (an "upgraded' version of this model) has over this one, quite frankly are not worth the upgrade in price in my opinion. I own both for the record, so have time to amply compare. The main differences is that this one (N2) feels lighter (and that can be a good thing when doing larger areas of skin (which can be time consuming) and does not have an LED display. I suppose the M8 has a little more power (than this model)on higher speeds. But these pens are for home use (not sure why it says professional), and you really don't need that kind of power for home use. Micro-needling is a game changer in terms of DIY skin care.

Look up Penn Smith Skincare on YouTube, she is a master esthetician that will show you how to micro-needle at home the safe and correct way. It's easy and free to learn and you can learn the basics in under 30 min. Micro-needling (unless going deep) doesn't even hurt in case you were wondering. I really dislike how the numbers are so small on the dial, so difficult to read on both pens, (that number is the depth, quite important). Careful when setting the dial that you are sure of what is reads.
05/02/2022
Frequently Bought Together